Amnesty International's position on Gao Zhisheng's release 16.08.2014:
Amnesty International welcomes human rights lawyer Gao Zhisheng's release from prison; he should never have been imprisoned in the first place.
His release however has not been unconditional as he continues to have his political rights deprived for one more year in line with his original sentence. Public security officials have some leeway on how this additional punishment will be implemented. This is particularly worrying given the case history (enforced disappearance, torture).
Amnesty International calls for all restriction on his freedom of movement and expression to be lifted.
Quelle: http://www.twitlonger.com/show/n_1s46pt1.
Gao Zhisheng is a prominent human rights lawyer. He has been subject to enforced disappeared since 4 February 2009 except for a brief reappeara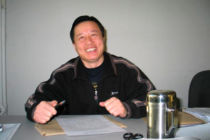 nce in March 2010. He has now been missing for more than a year, leading to serious concerns for his safety. Gao has been held incommunicado and tortured by authorities on repeated occasions, beginning in 2006.
"Jailed Human Rights Lawyer Gao Zhisheng Released Into Control by Authorities (7/30-8/7/2014)
Authorities released human rights lawyer Gao Zhisheng (高智晟) on August 7 from a Xinjiang prison after he completed a three-year prison sentence, but Gao is apparently not free. He appeared to be accompanied by Chinese security personnel and barred from speaking on the phone to family or supporters so far. His wife Geng He (耿和), based in the US, reached his brother who had travelled to Xinjiang to meet Gao. The phone call was cut off soon after the brother said he was with Gao on the return trip, and he said it was "not possible" for her to speak to Gao, according to the wife's Twitter @genghe1. Activist Hu Jia (胡佳) told CHRD that he spoke with the brother, who said Gao's teeth were ruined and they would seek medical treatment in Urumqi for a few days and then head back to their home village in Yulin, Shaanxi Province."
Quelle: http://chrdnet.com/2014/08/chrb-jailed-human-rights-lawyer-gao-zhisheng-released-into-control-by-authorities-730-872014/